Dear light of heaven, I love Costco. Whereas to some it can seem like a gigantic warehouse with narrow aisles stacked to the ceiling with pallets, to me it's a veritable wonderland.
I love a good deal, and the best deals are often buying in bulk. When I mention I'm a Costco member, I've gotten scoffs and "Yeah but I don't need 25 rolls of paper towels and 8 dozen eggs [or some other exaggeration]. Plus, where would I put it all?"
Ummmm… Costco was the cheapest place to shop in New York City, honey. If I can find space in a tiny Brooklyn apartment to store extra items and save some cash, you can too. And that's what it's all about: saving cash.
Admittedly, Costco isn't always the best deal. Sometimes they try to pull one over on ya and slip in some regular-priced stuff. But I don't blame 'em for trying to make profit. Because when the deals are good, hoooo boy are they stellar (find me a cheaper avocado and I'll eat my hat, and bananas cheaper than Trader Joe's). That's what keeps me shopping at Costco year after year: THE DEALS.
On top of already great prices, I've found ways to push them even further by making sure I always get a discount. 2% off, 5% back, even 10% rebates in some cases when I'm in the mood to plan a big shopping trip.
Here's how I save every time I shop at Costco.
Stack these offers to build your own discounts at Costco
Y'all know I love a good stack (that means combining a bunch of small discounts that add up to BIG discounts). The more you stack, the more you save.
You'll be happy to know a lot of these offers are completely automated after you set them up just once.
1. Save 1% with the Spent app
Y'all prolly think I just sit around with a ton of apps on my phone cuz I'm always recommending them. But free money for downloading something? I'll never turn that down.
With the Spent app, you need to plug-in your banking information one time. It will track your transactions and add 1% cashback when you activate offers on the app for popular merchants, including Starbucks, Uber, Whole Foods, Netflix, and Costco.
(I also have 1% cashback at Kroger, Shell, Chick-fil-A, and Home Depot in my offers.)
You can withdraw your earnings when you hit $20. At a 1% earn rate, you'll need to spend $2,000 to get $20 back.
But:
It all adds up
It's free money
You only need to set it up one time
If you spend a lot at Costco, getting a 1% rebate on every shopping trip is pretty sweet. Plus, with all the other cashback retailers, you can sit back and count your $20s as they roll in. 😎
2. Discounts with Ibotta
Ibotta is another total gem. You can earn cashback on a ton of household goods (I recently got a nice haul for my organic protein, liquor, beer, and some produce).
This one's more involved because you have to activate every discount and upload your receipt. But I love scanning the list of deals – plus, they regularly run bonuses so you can earn even more.
When you accrue $20, they'll send the cash directly to your PayPal or Venmo account – how cool is that? I always take a peek at the app while I'm shopping. If I'm gonna buy something anyway, might as well get something back for it. And if I'm torn between 2 similar items, the Ibotta cashback is always the tie-breaker.
I've always gotten my cash credited within a few hours – sometimes minutes. And some of the discounts are several bucks, which is nothing to sniff at.
You're already saving buying in bulk. Getting more money back on top of that is just awesome.
3. Get 4.5% back every time with the US Bank Altitude Reserve!
Whoa, wait. Did the US Bank Altitude Reserve card just become the best card to use at Costco? *gasp* I think it did!
Why? Because every Costco store just added the ability to use mobile payments in late August 2018. And the US Bank Altitude Reserve earns 3X points per $1 spent on mobile payments. Each point is worth 1.5 cents toward travel (which you can redeem instantly via text), so getting 3X is effectively a 4.5% discount (3 X 1.5)!
Now that Costco accepts mobile payments, this card just skyrocketed and became a forever keeper for me. No other card has this kind of return at Costco. Full stop.
It has a $400 annual fee. But you get $325 in annual travel credits, 12 Gogo wifi passes to use inflight (worth at least $10 each), and now, 3X shopping at Costco. So it's easier than ever to recoup the annual fee – and earn the best possible return of any card when you shop at Costco.
Note you won't get the 3X rate when you shop online. For that, the best card is Chase Freedom (learn more here) when warehouse stores are a quarterly 5X category. And if you have the Citi AT&T Access More card, you can still earn 3X Citi ThankYou points at Costco.com. (You can use any card when you shop online.)
But in-person? You betcha I'll be taking my US Bank Altitude Reserve with me on every Costco trip now. This is an incredible development, IMO.
Note: You need a banking relationship with US Bank to open this card. Even just a checking account counts. And checking accounts are free when you have US Bank credit card.
4. Or get a 2% cashback card
You don't need a fancy metal card to save at Costco. A simple 2% cashback card will also get you instant built-in discounts every time you shop at Costco, or anywhere else for that matter.
I recommend the Fidelity Visa, but there are many, many options. The point is, if you're not getting rewards with how you pay at Costco, you're missing out big time.
Lots of cashback cards come without annual fees, so they're free to keep. That's literally free money on the table. Keep in mind Costco only accepts Visa cards in-store, but they'll take any major credit card online for cash cards that you can spend online or in any Costco store.
You can always get a Citi Costco Visa and get 2% back to spend at the stores every year in the form of a check… and it has no annual fee. 😙
5. Gold Star Executive membership
This here is the upgrade that earns an additional 2% every time you shop at Costco in-store OR online. It's $120 a year vs $60 a year for a regular membership.
So here's the number to know: $3,000. Because if you earn 2% cashback on $3,000, that's $60 – which completely covers the price of upgrading over the regular membership.
Beyond that, it's all 2% gravy. If you spend at least $250 per month at Costco ($3,000 / 12), upgrading is a no-brainer. You'll earn your 2% back as a check every year.
When you stack this 2% back with a credit card, you're looking at 4% back (with a 2% cashback card) or nearly 7% back (with the US Bank Altitude Reserve card). That's a nice savings when you spread it out over a year. Especially if Costco is your go-to for food staples.
6. Track price drops with Paribus
Link:   Paribus
If you shop at Costco online, you need to sign-up for Paribus immediately.
It's a free service that tracks price drops for dozens of merchants, including Target, Amazon, Sears, and Costco.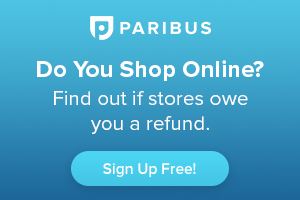 This is only helpful if you shop their site because it's an online service. That said, Costco will refund you within 30 days if Paribus finds a lower price – which it will scan for automatically. Just add the email address where you get your receipts when you shop online.
If Paribus finds a price drop, you'll get the difference refunded to your payment card. Did I mention it's completely free? You can sign-up here.
I've saved hundreds of dollars with Paribus between late shipment tracking and price drops from so many retailers. Getting some cash back only adds to the discounts you already got with all the tactics above.
7. Check for discounted memberships
Occasionally, you can find membership deals on coupon websites like Groupon or LivingSocial. In the past, you could get a free rotisserie chicken, batteries, a gift card, or a few other items to offset the membership cost. While this is a one-time savings, it's worth mentioning because it might just be your gateway into the world of Costco.
If there's a good deal, I'll post about it but honestly… I'd be a Costco member without any incentives. That you can get anything at all for signing-up is pure icing.
But yes, worth a peek if you're uninitiated. 👊
Bottom line
By now, we've learned:
Remember, you can stack these savings to save 2% on the low end, and 10+% on the higher end. Considering you're already buying in bulk, these tricks only make good deals all the better.
Do you have any other ways to save at Costco? You know I want to hear everything!

* If you liked this post, consider signing up to receive free blog posts in an
RSS reader
and you'll never miss an update! And thanks for using my links to
apply for new card offers
!