When you shop online, always always click through a shopping portal to earn extra points, miles, or cashback.
I personally use Cashback Monitor to find the best payouts before I shop anywhere.
I usually like to earn Alaska miles or Chase Ultimate Rewards points for online shopping. But occasionally, cashback offers are simply too good to pass up.
And competition is fierce. So much that they'll sometimes give you free money to sign up and use their portals.
I thought I'd round up 3 cashback portals where the initial bonus might be worthwhile for a little shopping. And tell you what's required to get the bonus AKA the cash in your hot little hand.
Note: I get cashback when you sign up for these portals, too. Thank you for using my links!
Get a shopping portal bonus
These bonuses are for NEW sign ups. If you're an old-timer to points and miles, you likely already have accounts with all of these portals. In that case, check out my backlog of Every Single Out and Out post! 😉
1. $5 from Giving Assistant
Perhaps my favorite cashback shopping portal. The cashback posts lightning fast – I usually have the cash in my account in 2 to 3 business days. You just can't beat that.
They also have a neat optional feature that lets you donate a portion of your earnings to a charity of your choice.
You get $5 for signing up and making a purchase.
The fine print: You must earn at least .99 cents in cashback to get the $5 bonus (which is super easy). You must earn $5.99 to get paid. And you get paid monthly via PayPal or quarterly for a paper check.
This is an easy, easy $5 for clicking a link.
You'll earn $1 assuming you spend $25 before taxes and shipping at a 4% payout. Then you get $6 back (with the $5 bonus), for a ~25% total discount on your first purchase. Not a bad deal!
2. $10 from Ebates
This one is dead simple, too. But it takes a while to get paid because they're on a quarterly payment system. But the payments usually post fast, within a week in my experience.
You can get your money via PayPal or get a check in the mail. And you must accrue $5.01 in your account to get paid.
Through March 31st, 2017, you get $10 for signing up and spending $25.
The fine print: To get the $10 bonus, you must make $25 in purchases within 90 days. Easy peezy. But you're subject to the table posted above, so try to shop before the end of March to get your payment on May 15th!
3. $10 from BeFrugal
This one requires more dedication because you must earn $25 in cashback to get paid. But, if you can find a really high payout, it would be worth it to use it once or twice to get the bonus.
You'll get $10 when you sign up earn $25 in cashback from purchases. But be sure to sign up before March 31st, 2017.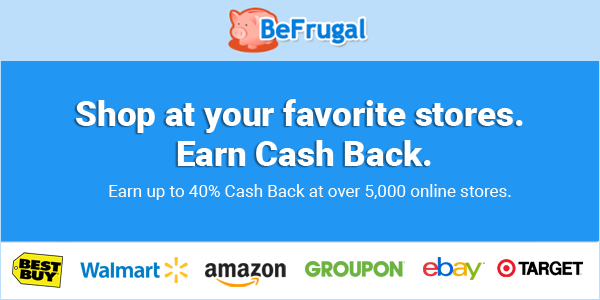 This one is new to me, so I will try to use it here and there within the near year to earn the extra $10 when it's a good deal.
All that said, once you reach the $25 minimum threshold, you can request payment immediately via PayPal or a paper check. Or you can select an Amazon gift card and they'll add 3% more.
The fine print: It seems you have 365 days to earn $25 in cashback for the bonus. And if your account is dormant for more than 365 days, they'll charge you $2 a month until the account is drained.
A few tips
I am psychotic about making sure my payouts post. Because I hate the hassle of remembering, following up, and waiting to hear back on something that should be theoretically automatic.
Make sure you:
Turn OFF your ad blocker. It could mess with your cookies, which is how your purchases are recorded and reported back.
Clear your cookies. If you've checked a couple of different portals, you want the last one you click to stick. Using incognito mode is an easy way to get this to happen.
Stick to ONE browser window. I love to have a zillion tabs open to compare products and read reviews before I add them to my cart. That's fine, but make sure at the end you close them ALL out and click through the portal again so you only have one browser tab for the store. Then check out through that tab.
Read the T&Cs. Certain items might be excluded – and it can vary by portal. So if the item you want is excluded, check a different one.
On that note, if the T&Cs say your cart must be empty when you click through, make sure that happens. But remember to keep this to that ONE browser tab.
If you're as crazy as I am, add the purchase to a file until the payout posts. 99% of the time, doing the above will ensure you get paid. If you don't do this all the time, make an exception for limited-time offers or special deals to get what you're entitled to, should it come down to that.
Oh, and of course be sure to use the right credit card to get any category bonuses! If you need a new one, I'm grateful when you use my links to apply.
Bottom line
If you have online shopping coming up, it's extremely simple to earn $5 from Giving Assistant and $10 from Ebates. While not as easy, you can also earn another $10 from BeFrugal.
I've never had a BeFrugal account, so I will switch some of my clickage to there in the next year when the payouts are high.
I always recommend checking Cashback Monitor to see which portal has the best payout. And check every merchant. Sometimes you might be surprised at what gets you bonus points, miles, or cash. Get in the habit of checking.
In general, I prefer to earn Alaska miles or Chase Ultimate Rewards points. But if payouts are high and there's a cash bonus attached, I am definitely not opposed to getting some cash in my PayPal account.
And while $5 or $10 isn't a huge amount, it's free money for clicking a link so I thought I'd pass along just in case anyone doesn't already have accounts.
Is there another portal bonus I've missed? Do you have a favorite because of payout speed, ease of use, or another factor? 
* If you liked this post, consider signing up to receive free blog posts in an
RSS reader
and you'll never miss an update! And thanks for using my links to
apply for new card offers
!